The first procession
While it is impossible to say with historical precision in which year the first Tamborrada took to the streets of San Sebastián, the chronicles would have it that it was in the first decade of the thirties in the 19th century when, to celebrate the feast day of the patron saint of the city, created in 1597, the streets of San Sebastián saw the first parade of what we now know as the Tamborrada.
A fortified, walled city dominated by a military atmosphere, the chroniclers still say that every morning the troops would parade from the San Telmo Barracks to the Land Door, located in today's Boulevard, to proceed with the changing of the guard. Some attribute its origin to the drumming of the firkins produced by the girls in domestic service and their escorts – skilled tradesmen and soldiers – while waiting their turn to draw water from one of the three fountains which, around 1836, supplied the city with water.

However, the most strongly advocated idea is the one claiming that the Tamborrada was born as a group of the San Sebastián Carnival in that same period, after which the tradition of celebrating the city's patron saint's day took shape with parading through the streets of the city in the early morning to the sound of a zortzico march by the maestro Santesteban, exclusively performed in those first years on barrels, to which loud drums were added at a later stage.
The participants, who would initially dress in outlandish costumes – hence the idea of its birth as a carnival group – later started to use uniforms.
They would go out every year, at 3:30 in the morning, from the "La Fraternal" Society situated on the way up to the Castle, to the beat of "Sheshenarena", given that Sarriegui didn't write the San Sebastián March until 1860. Untiring, they would continue their rounds of the streets until exactly eight o'clock, when they would stop at the corner of the Calles Iñigo and Narrica to wait for the sokamuturra or bull with a rope in its snout to appear.
The Tamborrada marked the beginning of the winter festive cycle, ending with the Burial of the Sardine on Carnival Tuesday.
Raimundo Sarriegui
As the century advanced, the early popular compositions of the time (Urra Papito, Sheshenarena, old Iriyarena…) were joined by those written by the maestro Raimundo Sarriegui (1861), four of which were established as those which would traditionally, until 1965, the date when the Polka and Retreta were incorporated, make up the classic Tamborrada repertoire: the San Sebastián March, Diana, Tatiago and Iriyarena.
After the "La Fraternal" Society came the "Union Artesana", founded in 1870, and which until 1956 would take to the streets at 5 a.m., opening its parade with three heralds on horseback, followed by uniformed drummers decked out as militiamen from 1800, playing skins and barrels to the sound of the marches played by the music band bringing the procession to a close. The Unión Artesana incorporated uniforms belonging to the Napoleonic wars, creating a custom which was continued by the bodies that gradually signed up as organisers of the celebration including, as they increased in number, uniforms, of rather fanciful design, used by the French, English, Spanish and Portuguese armies.
The cans and pieces of wood used in ancient times to participate in the Tamborrada were also replaced by drums, barrels and firkins (the bucket used by the women of San Sebastián to carry water) as a memory of that far-off San Sebastián in which the soldiers, in uniform, would bang their drums and the civilians, at that time dressed as bakers and today as cooks, would follow them as they went to and fro playing wooden buckets.
In 1906 the Euskal-Billera tamborrada was born, and it came to light in a special context, since that year the idea was that all of the tamborradas would take to the streets together. Thus, the "Unión Artesana", "Club Cantábrico", "Sporti Clai", "Amistad Donostiarra" and "Euskal Billera" paraded through the streets of our city.
Since then, more than a century has passed and our tamborrada has taken gigantic steps in many aspects. From being a celebration of exclusively male participation, it has become an inclusive event in which anyone who wishes can take part in equal conditions, no matter what their gender. From being a celebration restricted to the traditional societies it has become a festive occasion that gathers people with shared interests, who are interested in a same subject... around a drum. A celebration in which boys and girls, young people and adults all have fun together.
Among the landmarks to have significantly marked the introduction of changes in favour of a more inclusive and egalitarian festive occasion, we can mention the following:
The first mixed tamborrada appears in 1980 when the Kresala Elkartea introduces the figure of the aguadora or water-carrier to their ranks, so that women can participate in the fiesta playing the "firkin".
The first mixed tamborrada in which men and women play the same role sees the light in 1982 with Eskaut Gia: both men and women dressed as cooks play the drum and the barrel indistinctly.
In 1999, representatives of tamborradas from all over the city take part in the main official event of the celebration, the Flag Raising ceremony in the Plaza de la Constitución. From then on, the Flag Raising ceremony becomes the true start of the celebration in the city of San Sebastián, with the presence of two unquestionable protagonists accompanying Gaztelubide: that of the tamborradas from other areas of the city and that of the women who, from then on, will also become visible in the Tamborrada.
Today 147 tamborradas make their way round the streets of our city. Except for 13, all of them are mixed and the presence of women is increasingly numerous.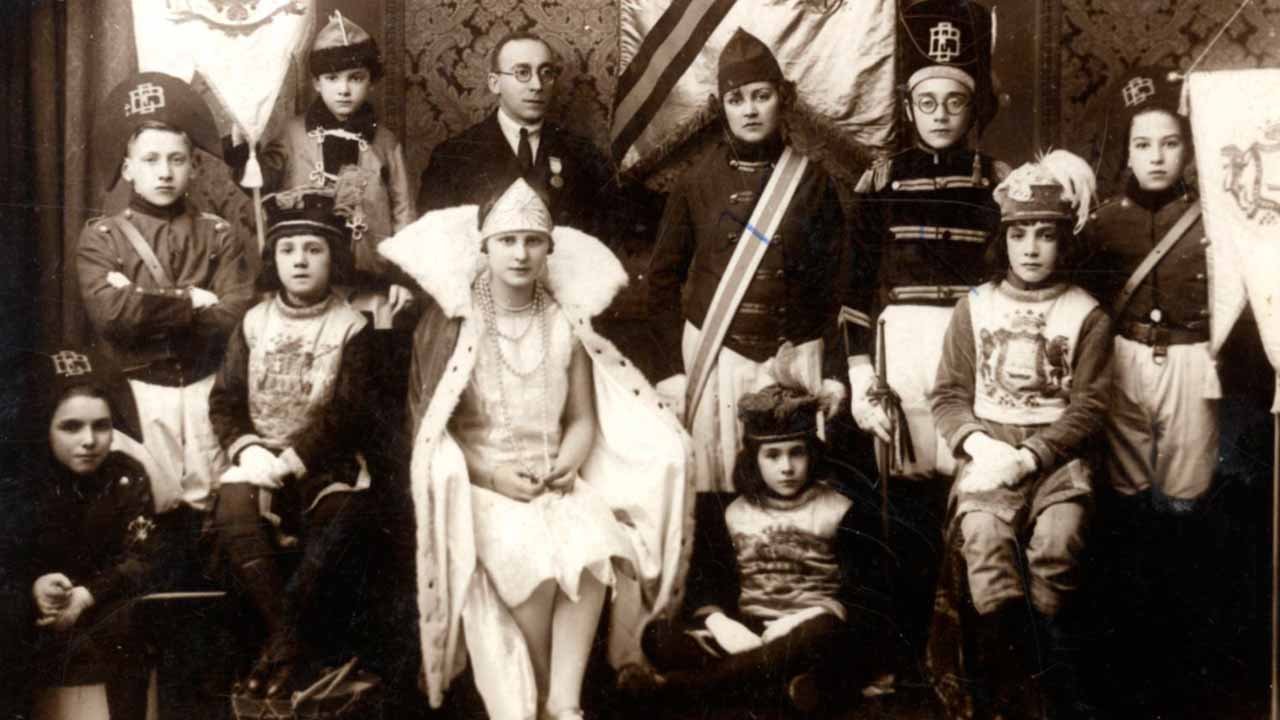 Fuente: Archivo histórico Eresbil
The children's tamborrada
As far as the children's tamborrada is concerned, they paraded through the streets of San Sebastián for the first time on 20 January 1927.
At eleven o'clock in the morning of that day, the Euskal Billera children's tamborrada made its way to the Plaza de la Constitución where the children played the classic tamborrada marches, to the beat of the drums and barrels. The event was presided over by the authorities from the balconies of the Town Hall. The concert was repeated minutes later in the Boulevard music stand.
Following the forced parenthesis of the Civil War, 1936-1939, the parades begin again with equal brilliance, continuing until 1961, when a radical transformation takes place. Years later that primitive children's tamborrada is increased in size and new companies are formed.
In November 1984, the Governing Board of the CAT tourist office approves the proposal made by schools to accept the participation of girls in the Children's Tamborrada "provided that they conceal the details indicative of their sex (long hair and earrings)". Thus, girls join the parade in 1985 playing either the drums and/or the barrels.
In 2019 there will be 50 companies, some 5,000 boys and girls.
2012
Ainhoa Olasagasti es la primera Aguadora Mayor incorporada a la Tamborrada de Gaztelubide.
2006
Se incorpora la figura de las aguadoras a la Tamborrada de Gaztelubide aunque debido al poco tiempo existente entre la aprobación y el día de San Sebastián, las aguadoras que salieron con Gaztelubide ese año pertenecían a Artzak Ortzeok.
1996
Al existir un único traje de General, las medidas del niño elegido no correspondían a la del uniforme, siendo necesario cambiar de candidato.
1996
Sin resultado óptimo, por vez primera se intenta que en la concentración de Alderdi Eder se cante la Marcha de San Sebastián.
1994
Al salir la última Compañía se detuvo el desfile para interpretar la Marcha de San Sebastián.
1994
Causa baja la Compañía del Almirante Oquendo siendo sustituida por la de BiteriZuhaizti.
1989
Se acuerda que este año sea la bandera de la Comunidad Europea la que encabece el desfile.
1987
Por primera vez una niña dirige la tamborrada de su colegio en la Tamborrada Infantil; Eunate Eizagirre, de Axular Lizeoa.
1980
En 1980 salió la primera tamborrada mixta en la que las mujeres participaban tocando un instrumento. La precursora fue la sociedad "Kresala" que creó la figura de las aguadoras tocando la herrada como medio de incorporar las mujeres a la fiesta.
1978
Causa baja la Compañía del Colegio de los Angeles.
1978
Participa por única vez la Compañía llamada de Zumalacárregui.
1978
Habiéndose retrasado el desfile por la lluvia los años 1965 (24 enero) y 1972 (23 enero), este año el mal tiempo demoró la salida hasta el 19 de marzo.
1977
Legalizada la ikurriña el día 19 de enero, fue llevada abriendo el desfi le junto a la bandera de San Sebastián.
1975
Causa baja la Compañía de la Benefi cencia (Zorroaga).
1975
Se crea la Compañía de Abastecimiento, formada por carros que, tirados por burros, transportan cañones y pertrechos militares.
1972
Los Tambores Mayores, la Reina infantil y el General acuden a la plaza de Sarriegui, una vez terminado el recorrido, para inaugurar el monumento homenaje a Sarriegui.
1971
La Compañía de la Catequesis de Santiago (Amara) cede su puesto y demás elementos a la Compañía del Polígono La Paz.
1970
Una Compañía de la Tamborrada acude a la plaza del Centenario para inaugurar la "Estela" de Ricardo Ugarte Zubiarrain.
1969
Con motivo del estado de excepción se suspendió la salida de la Tamborrada.
1966
Junto a la Compañía de Marianistas participa una llama encontrada en montes cercanos a San Sebastián.
1966
Fallecido Perico Arana, promotor de la Tamborrada Infantil, se dio su nombre a la Compañía de las Escuelas del Antiguo.
1966
Para recaudar fondos con destino a las nuevas Compañías, se colocaron tribunas de pago en la calle Hernani.
1965
Se suprimió la megafonía en la calle, que había sustituido a las bandas de música, colocándose altavoces detrás de cada compañía. Tras el fracaso se volvió al sistema anterior.
1964
Cinco niños de la Compañía del Amor Misericordioso, junto a otros procedentes de Vizcaya, visitaron al Papa Pablo VI en el Vaticano. Portando su bandera y vistiendo sus uniformes interpretaron ante el Santo Padre "Iriyarena" y la "Marcha de San Sebastián".
1961
Sale por primera vez la Tamborrada Infantil en el formato que actualmente conocemos. Unos 300 niños de entre 8 y 12 años de acuerdo a la siguiente formación: Abanderados, Euskal Billera, General y Ayudante, Marianistas (colegio fundado en 1887), Escuelas Francesas (1898), Sagrado Corazón (1904) y La Salle (1947). Banda militar de música seguida de las compañías de las Escuelas del Almirante Oquendo y del Asilo Reina Victoria (Zorroaga). Cerraba la tamborrada el colegio San Ignacio (1929) que así lo había solicitado por tratarse de una compañía de artillería que llevaba cañones y su marcha podía ser algo más lenta. Los Caballitos de Igueldo abrieron la marcha y los lanceros de la Sociedad Hípica desfilaron dando escolta a la carroza de la reina de San Sebastián.
1957
La tamborrada de la Unión Artesan, que hasta entonces salía a las 07:00 horas del día 20 de enero, cambia su hora de salida a las 22:30 horas y participa por primera vez en la Arriada.
1953
En la prensa se señala que la izada vuelve a realizarse en la plaza de la Constitución (plaza del 18 de julio en aquél entonces) tras unos años en los que se realiza en Alderdi Eder tras el traslado del ayuntamiento el 20 de enero de 1947.
1948
Se suspende la Tamborrada en el acto de la izada: "una lluvia fuerte y pertinaz obligó a Gaztelubide a arrinconar sus tambores y suspender el tradicional festejo. La única tamborrada que acompañó el izar de la bandera de San Sebastián fué a gran orquesta (sic), con acompañamiento de truenos."
1940
Se retoma la Tamborrada tras el paréntesis provocado por la Guerra Civil.
1936
El alcalde (gobernativo) Sr. Echauz, durante la cena en la Unión Artesana conmina a los presentes a escuchar la Marcha de San Sebastián "de pie y con la debida atención por parte de quienes la oigan con la misma o igual (sic) atención con que se reciben otras marchas o himnos".
1935
Previó al día de san Sebastián, el alcalde Sr. Paternina señala que ese año solo se autorizarán las tamborradas oficiales y que no se permitirán las "tamborradas espontáneas" a las que en algunos ámbitos se les denominaba como "latosos". Esa noche, en la izada de la plaza de la Cosntitución hubo abucheos por parte del público al alcalde al que impidieron que hablase en condiciones y que la prensa achaco al motivo anteriormente descrito.
1934
En la prensa de la época se dice que la tamborrada de euskal Billera va a "ser cinematografiada por una importante casa de películas" con la ayuda del CAT.
1927
Sale por primera vez la Tamborrada Infantil de Euskal Billera.
1924
Constancia escrita de la primera izada en la plaza de la Constitución.
1920
Se celebra en Buenos Aires la primera tamborrada en la diáspora de la que tenemos noticia.